I really do. I love Dragon skulls even more, I picked up this at a carboot sale for £6 because I couldn't find a nice one on the internet. They were all kinda tacky and cheap looking Except this dude. Bought on impulse, the original owner hadn't even taken it out of the box!
It resides on my fireplace normally! But there are things our mantlepiece we can't allow you to see... Yet.
What goes with dragon skulls and doesn't leave mug rings? Human Skull coasters!!!
From the seller:
Fact: The Colosseum in Rome is made almost entirely of travertine!
Full color Images are integrated to the stone surface using a multi-step process that I have perfected. I take great care, use the best products available, and spend the time needed, to ensure the most beautiful, highest quality stone coasters available.
The end result is a sharp, colorful image combined with the natural qualities, unique to each stone remaining unchanged.
Each stone tile is sealed on all sides, with several additional coats of a semi-matte protective sealant on the surface. The result is a smooth high quality finish that does not become tacky when wet.
Custom orders using YOUR OWN PHOTOS, design, logo, invitation, menu etc are welcomed. Please contact me for additional information.
Please convo me with any questions, requests or large orders
Have any questions?
Contact the shop owner "
You can buy these from
http://www.etsy.com/shop/rbclarkson?ref=seller_info
Price in June 2011 was £16.11 (£25 incl p&p) but have since risen in price to £34 incl p&p. Fear not, this was a luxury purchase.if you are looking for cheap cheap cheap stone coasters, you can get coasters in all sorts of materials for as little as £5 incl p&p such as this delightful set of fabric coasters from
Giny's Gifts Etsy Store
With our Woodland themed living room, we decided we wanted to go a bit further than a woodland theme. We wanted to create night and day in true fashion following sunrise and sunset. I found perfect night time pillows.
Seller says: Throw Pillow Cover ONLY
Handmade throw pillow cover made from 100% cotton Front, and cotton poly blend for back cover.
Measures: 16x16"
Envelope opening in the back for easy cleaning.
"Haunted Mansion" by Sanae for moda fabrics collection.
Custom Orders are available, please feel free to contact me for any questions you may have.
Pillow not included, but are available for $7 each and shipping will be adjusted.
Regular Ground Shipping.
(1)
Have any questions?
Contact the shop owner.
You can buy pillows from
My Vicious Boutique
at £8 each I bought two totalling £19 inc p&p
We love internet humour and we want our bathroom to point and laugh at us while we do our business. I know I said "do one room at a time!" but I had to buy this hand towel to creep our guests out.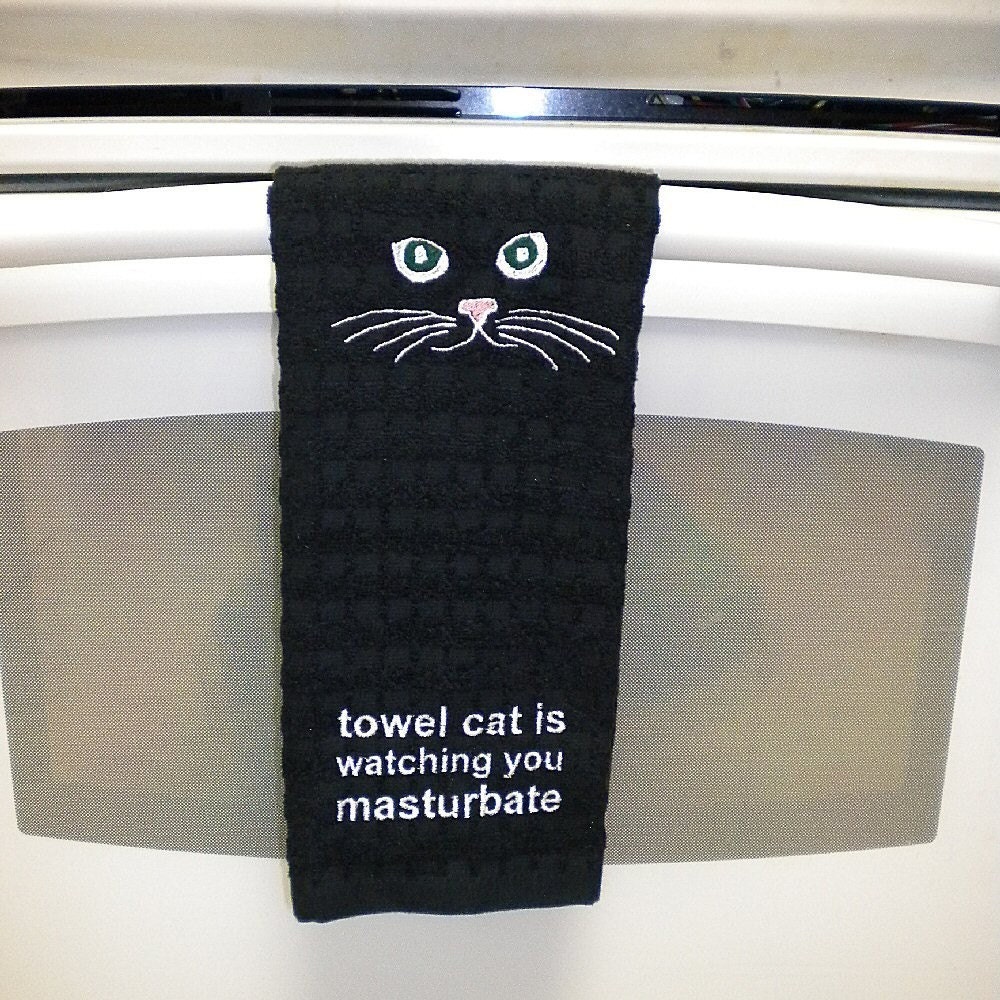 Seller says This black 25x15" hand towel is a perfect addition to a home or a bedroom. Inspired by the all-mighty ceiling cat, this adorable towel features a machine embroidered cat face and the text, "towel cat is watching you masturbate."
Have any questions?
Contact the shop owner.
Bought from
ShaeWow
for £8.05 incl p&p
Total spent in June - £68 including bluebell wood print
Total left - £432