Lay your head down child
I won't let the boogeyman come
Counting bodies like sheep
To the Rhythm of the war drums.
As a huge fan of
A Perfect Circle
, I thought it would be completely appropriate to buy this painting, I hate blue. I hate blue a lot, but the shades of blue in this compliment the purples in my living room, plus, it reminds me of summer evenings in the dreary Devonshire winters. I'm a One Of A Kind girl with a love for OOAK pieces so I was delighted to purchase this piece, a guarantee that no other
APC
fan would have. GO ME!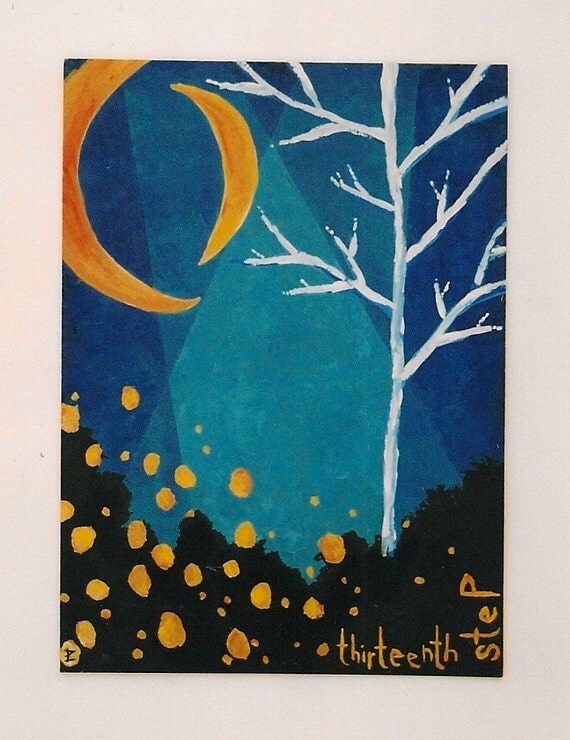 Unfortunately, It was bent and the canvas was very frayed in the corners. I'm not sure if this was mishandled in transit or just hadn't held up well since it's creation way back in 2004. I simply couldn't tack it to my wall and I also didn't notify the seller because despite the damage (You can see the fray in the below pic under the 's' and top right), I really liked it and to return the item and get a refund wouldn't have solved anything.. So, I went to Wilkinson's (my favourite budget home decor store) and found a frame to stop further damage
Now, Etsyer's tend to think outside the standard framing size so I improvised and used black card to disguise the mismatch and it looks pretty damn gorgeous and protected. The order totalled to £34 incl p&p which I think, given that this is a OOAK painting, is a completely reasonable price
The artist says:
Original artwork by
Chandra Leming
, 2004.
Gouache on paperboard.
Measures 14.5" x 10.5" and is ready for framing, or can be hung directly on the wall, poster style.
This work is from a concert poster style project and is based on my memories and experience from A Perfect Circle's "Thirteenth Step" tour.
This is an original, one of a kind painting- there are no copies or prints available!!
This work is signed on the front with my printer's chop, as well as signed, dated, and titled on the back.
Please read my shop policies before purchasing.
Thanks for looking!
<3ChandarChandar
Have any questions?
Contact the shop owner.
The previous month, I had shown you guys some beautiful
cushions
I had bought from
My Vicious Boutique
. I ABSOLUTELY ADORE THIS GIRLS WORK. Seriously. So I bought 3 more cushions from her. I bought two more Gothic Tree cushions AND! I bought this gorgeous Bat cushion from her in a custom listing.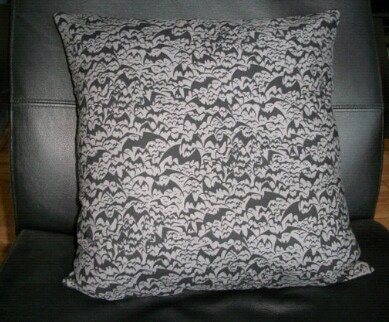 Sorry for the image, the pillows were due for a wash and an iron and I couldn't wait to put a photo up!
I want to buy more from Vicious Boutique but she doesn't usually list items. I convo'd her and she happily obliged with my request for the three extra pillows. I'd love to convo her again and ask for more pillows but, I feel rude especially as nothing is listed in her shop at the moment. Order total came to £29 including p&p
Total spent in July 2011 £63
Total left £369
Thoughts - In the past two months I feel we have made too many extravagant purchases. I was distracted by so many beautiful, unusual handmade things that I now need to make a serious effort to buy wall art on a frugalist budget. I have spent a good couple of months planning this whole project and while it seems like I'm going to run out of funds fast at this rate, I decided it would be better if I bought the extravagant pieces first. We are both extremely confident that we can decorate our house for £500.